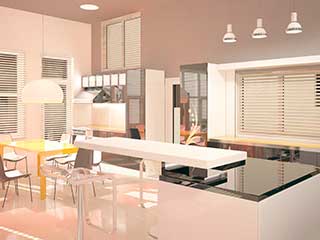 Our extensive range of window coverings provides a lot of benefits. One of the things that most homeowners are concerned about is privacy. If you know neighbors could be looking in at you, could feel comfortable in your home? We couldn't. That's why we've put together this list of the best window coverings for privacy. Don't put up with a property you don't feel comfortable in. If you'd like to know more, arrange a free in-person consultation. Our experts at West Hollywood Blinds & Shades will happily give you the lowdown on all the different types of window treatments the work best for privacy.
Blackout Curtains – Keep Your West Hollywood Bedroom In The Dark
When you want to be sure no-one can look in on you, choose custom blackout curtains. These window coverings are designed to prevent light from passing through, which makes them an excellent choice for maintaining your privacy. Even when backlit, with bright lights on inside, you can be sure that nosy neighbors can't see through your blackout curtains.
Plantation Shutters Offer Elegance And Privacy
Adding a new set of plantation shutters to your West Hollywood property makes it look great. This is an added benefit because you'll also be getting privacy on demand. With a simple flip, you can easily prevent onlookers from seeing into your property. Custom plantation shutters are a great choice if you're worried that people can spy on you, and often add value to a property as well.
Roman Shades Combine Privacy And Style
Your first thought when you see roman shades will be how amazing they look. You're right, and with a massive selection of styles to choose from, there are custom roman shades to suit any property. However, our roman shades also offer great privacy, as well. You can select any material you like, so it's easy to find a thicker fabric that provides excellent privacy as well as looking fantastic.
Venetian Blinds – A Classic Design For West Hollywood Properties
Add privacy on-demand to any room in the house with custom Venetian blinds. All it takes is a twist of the control rod, and you'll know that your room is kept private. Just as importantly, you'll benefit from the many design options available to you when choosing custom Venetian blinds. Our full range of colors and materials allows you to create the perfect combination for any room in the house.
Choose Vertical Blinds For Large Windows
Our range of vertical blinds includes plenty of different options. For example, you can use materials such as vinyl, wood, or fabric to achieve different effects. More importantly, custom vertical blinds are a fantastic way to provide privacy in rooms with large windows or glass patio doors. You can easily adjust these window coverings to any position you want, so it's simple to maintain the right levels of comfort and privacy at home.
Choose The Best Privacy Blinds For Your West Hollywood Property
Why compromise on something as necessary as privacy? Our wide range of custom window coverings makes it easy to get a little peace and quiet. Contact your local experts at West Hollywood Blinds & Shades today. Schedule a free consultation and get a quote on whichever type of privacy-enhancing window treatments you want.