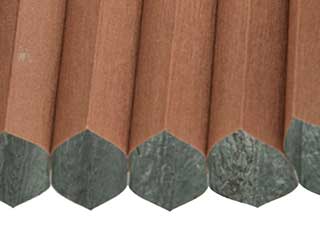 The main focus of window treatments is to block or filter sunlight. That's a given. But many covering options can do more than just that, and offer a plethora of extra benefits. Custom made cellular shades are especially popular for their ability to enhance the room's thermal insulation, reduce outside noise and provide UV protection. They make for a great addition to rooms near a street or where heat tends to escape more rapidly.
Superior Insulation Capabilities
The thermal efficiency of cellular shades is afforded due to their unique structure. These coverings consist of a single, double, or triple layer of cells, with each unit serving as a pocket for trapping air. This creates a barrier that reduces heat transfer. This will directly affect your HVAC unit's ability to control and achieve the desired temperature. Which is to say, it will make things easier on it. That's right. Cellular shades can help you save money on energy, especially in the long run. Versatility comes into play here as well, as the material these shades are made of can also determine the effectiveness of their insulation.
Your Choice Of Designs
In addition to providing extra insulation, cellular shades can also contribute to the overall décor. They can be made in all sorts of colors and textures, and the fabric choice will also go towards creating a certain look and feel. It will also determine their light filtering capabilities. Cellular shades can provide excellent protection from UV rays and can provide anything from room darkening to complete blackout options.
Window Shades For Winter and Summer
While 'insulation' usually brings to mind the cold winter season, it also serves us quite a bit during the hot summer months. The air barrier created by custom made cellular shades serves to not only prevent heat from escaping, but to also prevent it from getting in. They serve as a buffer between the room and the outside world, making it easier to maintain your desired indoor temperature while also blocking sunlight and reducing glare. Want to know more about these unique window treatments? Then contact West Hollywood Blinds & Shades to schedule a free consultation and have a sit down with a nearby expert who'll provide all the information you need to make a decision.