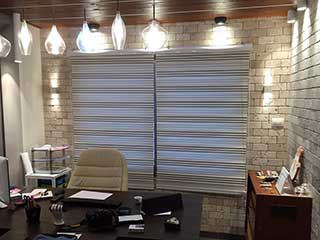 Shades never really go out of style because there are so many options to choose from. They can help you save money on energy bills by adding extra insulation to the windows. They can seriously contribute to the existing decor. And let's not forget, they keep our sensitive eyes protected from harsh sun glare and keep UV rays from damaging our furniture and skin. But it can be annoying to have to manually lift or lower the shades each time we want to adjust them a little, no? Well, good news! With motorized shades, you won't have to lift a finger!
Ease of Raising and Lowering
No tangled cords, no getting up and going around the house to open or close the shades, no going back and forth to set them all to a certain height. Sounds wonderful, doesn't it? Motorized shades make it so that not only you won't have to manually do all this, with some models, you won't even have to think about it! Basic motorization allows you to control light with a simple push of a button or to set a timer for your shades to open and close at certain hours for better energy efficiency. But innovation doesn't stop there.
The Smartest Motorized Shades
Nowadays, with control and motor systems made by major brands like Lutron and the famous Somfy, you can also achieve voice control over your motorized shades. This is accomplished by integrating them directly into your smart home system and then using your virtual assistant, Alexa, Google Home, or others, to control the shades.
Match Any Décor
The versatility of shades really has no bounds: they come in a variety of colors, with or without a pattern or a print, and are much more durable than they used to be. Shades can add a splash of color or complement the furniture in a room. In addition to deciding on a look you'd like to achieve, you can also choose between blackout shades or light filtering ones, depending on how much light you want to let into the room. Motorized shades take all that and enhance it with high tech and elegant movement that's smooth silent and impressive.
What About Insulation?
Windows without any covering can let heat escape from your home in the winter and can let it pour in during summer. In both scenarios, your air conditioning unit (or the heater) will have to work overtime to achieve and maintain the desired indoor temperature. With the use of motorized shades, you'll have an easier time controlling sunlight exposure. Because automatic window treatments can work on a schedule, or even fitted with brightness and temperature sensors, they can help you keep your energy bill low.
Custom Made Motorized Shades
By having window coverings custom made to fit according to the specific dimension of your the glass panels, you ensure their efficiency. Now, combine that with motorization, and the efficiency and convenience all but double. Give West Hollywood Blinds & Shades a call for a free consultation with our professionals. Let us help you choose the perfect shading option for your home or office windows.