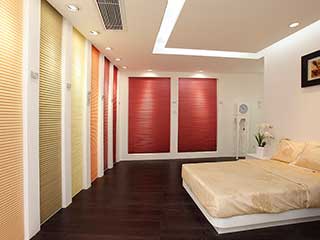 In this post, our experts explore the best blind designs available today that keep out as much light as possible. If you need darkness during the day or want it to get pitch black during nighttime, consider some opting for the window coverings below. Remember - many types of blackout or room darkening shades can suit your needs. But some have certain qualities that make them more favorable.
Why Sun Blocking Shades Are Important
Intuitively, one might want window treatments that allow maximum privacy and illumination simultaneously. However, if you like watching movies, work on your computer or play video games, even the slightest sun-ray can create an annoyance. If you need to make one or more rooms perfectly dark during the day, certain types of blind and shades will allow you to do this more easily. Furthermore, there are some designs you should try and avoid if achieving total blackout is your goal.
Roller Shades with Blockout Sheets
Blockout shades are typically available in roller form, which is one of the simplest options available today. Roller shades essentially consist of a large wide sheet that, when custom made, will cover the precise dimensions of your window. Roller shades can be made of sun blocking material, so when closed, they'll have no trouble creating perfect darkness.
Wide Cellular Shades
These window coverings are made from natural or synthetic materials. They form an array of pockets that bolsters the room's thermal insulation. The materials used for cellular shades are rarely transparent or sheer. That means that if you have these covers made to the right size they can be very effective at blocking sunlight. Cellular shades are great for living rooms and bedrooms as it provides other practical benefits. The hollow honeycomb structure is great for insulation as well as aesthetic purposes. They also close very neatly and efficiently, meaning they can make for very subtle window treatments when not in use. Many home and business owners will find cellular shades very suitable for rooms with a TV or a home cinema system. Their ability to block out light and maintain comfortable living temperatures make these coverings very popular.
Avoid Venetian Blinds for Pure Darkness
Modern blinds in the traditional Venetian style are very practical and can be very attractive. However, they are not so effective at keeping out light completely. Venetian blinds tend to feature minor gaps between their vanes, even when fully closed. They probably won't be able to keep out 100% of incoming sunlight, resulting in annoying slivers of unfiltered light. Do yourself a favor and contact us at West Hollywood Blinds & Shades to have a professional help you find the right window coverings for your needs with a free in-person consultation.