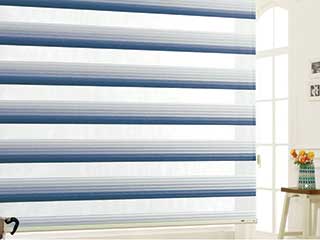 If you're a fan of functional designs, then you'll fall in love with layered shades. These ingeniously designed room darkening coverings work beautifully. Their operation mechanism, when actively used, produces an artistic effect of dark and light stripes. This zebra-like pattern creates a unique look that makes layered shades a very popular choice. Seeing as window treatments need to do more than just filter sunlight, this enhancement is more than welcome.
How Layered Shades Function
These window coverings consist of two layers of fabric on a continuous loop. Each layer has sheer and opaque vanes, with the former letting filtered light in and the latter blocking it. You can choose to retain the alternating arrangement of the vanes to have filtered sunlight enter and brighten the room. Or rather, you can choose to arrange the vanes in such a way that the dark or opaque ones cover the sheer vanes. This will create a light blocking barrier that also enhances privacy. You have your pick as to how dark you want your room to be since there are different levels of opacity to choose from. You can even get blackout layered shades if you want to achieve complete privacy at certain points.
The Main Benefits
Apart from the easy light control layered shades offer, they also provide an elegant decor enhancement. The clean and stylish look of these window coverings has a high tech feel. This vibe works especially well when complementing office spaces and modern home interior designs. The shades themselves can be customized in a range of colors, textures, and patterns. This makes for easy matchmaking and decor complementation. All you need to do is pick rich hues or neutral ones to achieve the desired design outcome.
Smart Shading Solutions for Your Home & Office
All our products at West Hollywood Blinds & Shades including room darkening layered shades come with a warranty. The high quality of our products gives us a great deal of confidence in their longevity. Get in touch with us to set up a free consultation with one of our experts. Let us help you see what textures and colors work best with your décor via a free consultation at your LA home or office. After measuring all your windows carefully to ensure the custom made shades fit perfectly, our installation team will return, ensuring your %100 satisfaction.