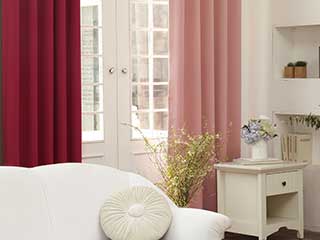 Window curtains are great if you're looking to add some protection against sunlight or nosy neighbors. Draperies can help you build a specific atmosphere or décor for a room. These window treatments, especially when custom made, can really introduce style and utility to residential and commercial properties. West Hollywood Blinds & Shades offers free quotes on custom window curtains and draperies, including no-obligation consultation appointments.
Discount Curtains And Draperies
The best ratio between high quality, the flexibility of custom design, and affordable pricing for window curtains and drapes is available to anyone near West Hollywood. With a large and diverse inventory of light filtering and blackout curtain materials to work with you can find the best option for your needs. From synthetic fiber for cheap curtains to silk and satin for embroidered drapes. The West Hollywood Blinds & Shades team can craft something for any home or business owner.
Blackout Curtains For Enhanced Privacy
If a well-protected gallery, a dark bedroom, or a secluded office is what you're trying to create, consider heavy blackout curtains. These black, foam-backed curtains are attractive and comfortable looking like any others. Still, their composition makes them the most opaque curtain option available. If light control is your top priority, blackout curtains are really a great choice for adding privacy to any room. They're also great for shielding sensitive equipment and wallpaper from harsh sunlight throughout the day.
Custom Made Drapes
The elegant, rippling pleats or panels that make up draperies lend them a particular eye-catching beauty. This look has custom drapes highly sought after and valued for centuries. Drapes can be further embellished with valance curtains to supplement their frames. You can also get to enhance them with ribbons to tie them back while adding to their color presentation. The same goes for embroidery, slits, and more. The heavy and durable nature of custom made drapery opens the door for all kinds of modifications.
Electric Motorized Curtains
Curtains are lighter than drapes and open and close with a simple sideways motion along their anchoring rods. A very simple electric motor can move a set of motorized curtains into the open and closed positions easily. It only takes a slightly more advanced one to include some in-between options. A remote control makes motorized curtains convenient. Timers and environmental sensors can make electric window treatments "smart" enough to take better care of the rooms they're in than you yourself can!
Curtain And Drapery Rods
Every piece of drapery or curtain set needs something to hang from. West Hollywood Blinds & Shades provides and installs the necessary armatures to ensure proper hanging for curtains and drapes. Getting your window fitted with a curtain or drapery rod will enable you to hang all kinds of lateral-moving window treatments. This opens the door for all kinds of blackout curtains and light filtering drapes that can help you create the indoor ambiance you're looking for.
Custom Curtains For West Hollywood Home and Office Windows
See what kinds of custom window treatments you have to choose from by contacting West Hollywood Blinds & Shades today. Set up a no-obligation consultation and get a free quote on the curtains and draperies that best suit your fancy. The number of available options and color and design combos is limited by your imagination. From bedroom curtains to motorized office drapes and much more.