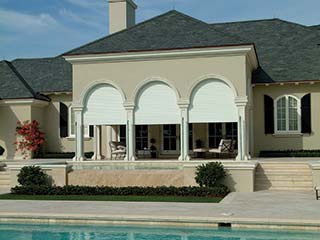 Create beautiful décor styles with smart motorized window blinds and shades that work effortlessly. The use of automatic window coverings to make the most out of natural sunlight has evolved significantly and in no small part thanks to Somfy's technological innovation. These smart motorized shading solutions with Wi-Fi controls let users optimize their use of natural light and better control indoor climate. From motorized drapery to blackout blinds and rolling shutters, Somfy shade solutions can offer you motorized window treatments for all sizes of surface areas. Plus, for outdoors, motorized pergola screens, awnings, and canopies provide some of the best patio cover options for West Hollywood area customers. With advice and recommendations from our professional Somfy blinds installers, you can find the top choices for your budget and purpose, in custom designs you pick and choose.
Why Somfy Blinds and Shades Are Worth It
Besides the clean aesthetic of Somfy products, these remote control shade solutions offer you industry-leading blinds and shades for windows, glass doors, skylights, and more. With custom made motorized shading solutions, Somfy blinds ensure complete coverage, fitting perfectly over the designated surface with no small gaps or slits of light to pass unfiltered. Sheer shades offer excellent sunlight diffusion, and blackout blinds give you total darkness whenever you want it. These utilities make Somfy shade solutions highly sought out, as the remote control features make smart blinds with such advantages very easy to control too.
Outdoor Motorized Shade Solutions
From extending motorized awnings to semi-sheer pergola screens that provide vertical shading, utilizing Somfy solutions for patios and decks gives you all sorts of possibilities. A motorized pergola canopy makes outdoor lounge areas much more hospitable, even during peak sunlight hours. With motorized patio covers and deck canopies, you ensure protection and shade outside to allow for parties, barbeques, and simple outdoor dining. Make sure to ask about motorized Somfy products for outdoor shade to give your West Hollywood porch, patio, and deck the best protection.
Remote Control Blinds For West Hollywood
All the different options Somfy offers can suit different customers' needs and budgets. With help from the local West Hollywood motorized shading solutions experts, you can easily find which Somfy blinds or shades will provide the exact properties you want. Find out more about these wireless smart window treatments and patio covers with a free estimate. To book a free consultation, give us a call or use the online booking system on this site.