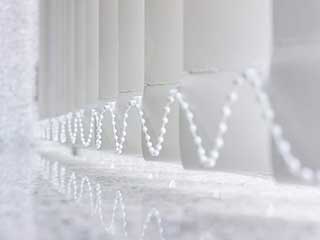 Custom vertical blinds are one of the best ways to keep a room comfortable. Our range of stylish window coverings provides you with all the options you need to enhance any room while maintaining privacy and comfort. Vertical blinds are particularly effective for covering large windows, which is why we recommend vertical blinds for office windows as well as homes. Speak to one of our representatives today to see how our affordable vertical blinds could bring big improvements to your property.
Low Priced Vertical Blinds For Sliding Screen Doors
Choose from our range of top-quality vertical blinds in order to keep your sliding screen door covered. This can often be a problem for homeowners because these large apertures let in a lot of natural light. Most window coverings aren't suitable for use on sliding screen doors, but vertical blinds provide an easy and effective way to provide privacy and comfort. We make our vertical blinds to your precise requirements, so no matter what size your sliding screen door is we will provide coverings that fit perfectly. Schedule a free estimate today for our personal, professional touch.
Vertical Window Treatments Motorized
Just like with their horizontal counterparts, motorized vertical blinds give you all the benefits of their manual versions, with enhanced performance. The utility and high-tech style you get with automatic window and sliding door coverings leaves a lasting impression on people. Our motorized vertical blinds can utilize various control methods, including the old-style blinds remote to smartphones and tablets and even sensor-based automation. Consult with our West Hollywood vertical blinds experts and choose whichever remote control option works best for you.
Choose Our Vertical Blinds For Office Windows
Employees can't concentrate if they're squinting in dazzling sunlight or struggling to see in a dim office. Install custom vertical blinds to ensure those office workers are always able to focus on being productive, rather than trying to keep comfortable. Our selection of high-quality vertical blinds is perfect for any boardroom or meeting room. Choose from many different materials and styles to find the ideal match for your workplace. Create a premium, professional environment with top-quality coverings, without the premium price tag. Just get in contact with our West Hollywood team for your free estimate and in-person consultation.
Affordable Custom Vertical Blinds
The sky is the limit when you choose our fantastic vertical blinds. We offer more than just a few choices. For instance, you can pick materials such as real wood or vinyl for your custom blinds, as well as materials such as sheer or blackout fabrics. These provide a great basis for any design, and you can customize them even further with different colors and patterns. You can even alter the width of the vanes, enabling you to create the perfect coverings for any room.
West Hollywood's Vertical Blind Experts
Don't tolerate discomfort and a lack of privacy at work or home. Get in touch with our West Hollywood-based blinds experts today to schedule a no-obligation consultation at a time that suits you. Our representatives will provide all the information you need to make the right decision, as well as expert advice and guidance on choosing your new custom vertical blinds.