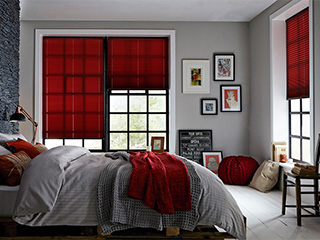 Roman shades offer elegance and style, while simultaneously creating a light filtering or blocking effect that enhances the indoor atmosphere. Their unique folding method makes them eye-catching and appealing even when partly or fully open. With the use of sheer or opaque fabrics, you can have your Roman shades darken the room, provide UV protection, and reduce sun glare. But before getting to them, let's cover the subject generally.
The General Importance Of Shades
Every house or commercial establishment is open to its external custom window blindsenvironment through its windows. When they're not sufficiently covered, the sun's harsh rays can get inside, creating unfiltered strong lighting. Unfiltered light also exposes you and your furniture to harmful UV rays. During winter, the cozy temperature your HVAC unit works so hard to maintain can seep heat away to the outside world through your windows. To reduce heat transfer and better control the amount of light that gets inside the room, you'll need to get window coverings installed. Roman shades have been around for ages, and for very good reasons.
The Way Of The Empire
Rome may not have lasted forever, but its folding fabric roman shade system still remains a popular window treatment option. Even today, these coverings remain just as useful and functional as they were when the Roman Empire was at its zenith. Given the plethora of benefits Roman shades offer, it's not unthinkable to speculate that they'll last well into the future. The secret to their longevity is the simplicity of their design. A simple design means that there's no danger of it becoming tacky. Every generation will appreciate. People may even gradually add something to make fabric roman shades fit the current style trends better. Changes may be emphasized in relation to various factors. This includes the type of fabric used, the colors and textures, and even the presence of printed design and imagery.
Flat and Pleated Roman Shades
If you want to learn more about the beauty and utility of Roman window sun shades, contact West Hollywood Blinds & Shades. Schedule a consultation with a window treatment expert near you, free of charge, to get all the advice and guidance you need to find the perfect covers for your windows.