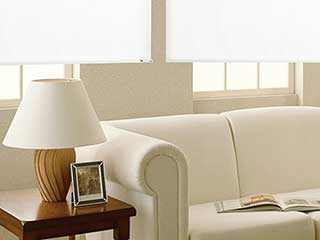 For any room that gets too much natural light, we have a solution. We have the best blackout blinds around, with such a fantastic range of options that you can easily find the perfect design. Create whatever window coverings you want, with access to our huge selection of styles and materials. Custom blackout blinds give you more than just protection from unwanted sunlight. These treatments also make it impossible for people to see into your home. Boosting privacy makes any home more comfortable, so why put up with less than the best? Call the West Hollywood Blinds & Shades team for a free consultation with blinds experts near you.
Blackout Blinds For Your Hollywood Windows
Whether you're at home or in the office, it's often tempting just to put up with annoying sunlight. How often have you sat in a meeting room or your living room, unwilling to get up and adjust your blinds on the other side of the room? It's annoying to have to constantly strike a balance between comfort and convenience. Make this an easy decision by choosing motorized blackout blinds. Remote control window coverings are an amazing addition to a Hollywood property and cost a lot less than you may believe. You can still choose from our amazing custom design styles, and it's even possible to control these treatments using only your smartphone. Make contact with West Hollywood Blinds & Shades we'll help you find the best cheap motorized blackout blinds for your property.
Improve Your Business With Blackout Window Treatments
Any workplace that subjects occupants to piercing sunlight is an uncomfortable place to work. Strained eyes and headaches are all common complaints of employees that spend time in environments like this. Make your Hollywood business a more productive place by choosing room darkening window coverings. Our range of blackout blinds for office windows gives your staff total protection from the sun at any time of day. That means no more long, uncomfortable meetings trying not to squint. It also means that your customers will feel much happier spending time with you. Why not find out how little our blackout blinds could cost? Schedule a free consultation to learn more.
Blackout Blinds Made To Measure
Our totally-custom system guarantees that you'll get the perfect new blinds for any window. We can build you blackout blinds for French doors, carefully making sure that you can still open and close them easily. Our representatives take all the necessary measurements, so even blackout blinds for skylights are not a problem. No matter where you need a little extra privacy and comfort, our West Hollywood Blinds & Shades can make blackout blinds for that area. Speak with our team today to see how low our prices are.
Great Deals On Room Darkening Blinds (Blackout & Opaque)
When it's time to choose blackout blinds for your bedroom windows, never settle for less than the best. We provide the best coverings around, with amazing service, all at a low price. Find out more today and set up a time for your free consultation anywhere near the Hollywood area.