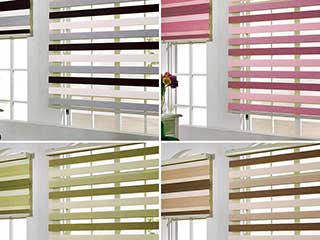 From hand-drawn roller shades to motorized vinyl blinds, there are so many choices when it comes to new window treatments. How do you know which ones are right for you? The answer is easier than you think. There's no need for you to get a Ph.D. in blinds and shades in order to decide which new coverings to put on your windows. All you need to do is contact us – West Hollywood Blinds & Shades, and have a professional come over to show you a range of custom made covering options.
Beautiful and Customizable Shades
Any type of covering you get from us, including pleated Roman shades and sheer or opaque drapes, can be custom made to fit your windows or glass doors. Apart from being absolutely eye-catching and beautiful looking, these shades will really complement the surrounding interior and help you create a pleasant and cozy ambiance.
Different Light Filtering Options
Each room has different criteria. You can get glare reducing sheer shades for your kitchen to protect yourself from harsh sunlight but also allow you a view out into the outside world. You can have insulating cellular shades installed in your bedroom, to ensure complete blackout conditions and full privacy. Every covering option comes in varying levels of opacity, meaning you'll just need to let us know how much privacy and visibility you want.
Electric Blinds With Automatic Operation
One of the best ways to ensure your window treatments are truly safe for children, is to eliminate dangling strings. But you can take things a step further. You can get motorized blinds and shades that only respond to remote controls or smart devices like a phone or a tablet. That's not all. You can also have self-adjusting blinds that reposition their vanes according to sunlight and weather sensors. The sheer ingenuity available today will shock you, in a good way.
Local Blinds and Shades Exerts Near You
West Hollywood Blinds & Shades covers all of the LA metropolitan area, which includes Ventura and Orange County. If you own a home or a business anywhere nearby, and you're interested in talking to a professional about hand-drawn or motorized window treatments – free of charge, might we add, then you'd do well to give us a call.
A Perfect Treatment For Every Window!

High Quality Materials

Free In-Person Consultation

Custom Made Shades

Hardwired and Battery Powered Blinds