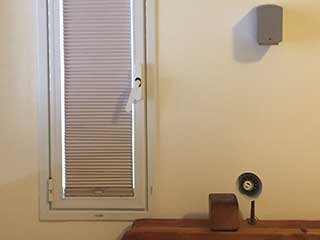 Trying to pick out the right new window treatments for your West Hollywood home (or office) can feel overwhelming. There are so many options to choose from! With Venetian blinds especially, the range of custom designs and materials stretches pretty far. That's where our team comes in. With a free consultation at your address, you'll receive the benefit of our years of experience to assist you in finding the perfect blinds for your home or business. One of the many styles that we often recommend is Venetian blinds, as they're straightforward and easy to complement to any room. We have more information about them and the various materials you can choose from here:
Motorized Venetian Blinds With Wi-Fi Remote Controls
There are many benefits to getting motorized Venetian window treatments for your home or business, and we're happy to go over them with you! Rather than needing to get out of bed to adjust the blinds, or dealing with the sun hitting you before you're ready to wake up, you can use a remote to open or close them. Or, set a timer so they open just as you're good to go! With Wi-Fi capability, you can even use a smartphone or tablet instead, for ultimate ease. Even when you're not home! You can upgrade your home and simplify your life in no time with motorized Venetian blinds on your windows.
Wood or Faux Wood Venetian Blinds
Wood Venetian coverings are a beautiful way to add a classy air to any space, from your office to the front room. Different wood staining allows you to match them to the décor around, and ensure they will fit right in. As long as you don't mind the maintenance involved to keep them looking sharp, they're certainly a refined addition to any window. However, if you like the look but not the price tag, we also offer faux wood Venetian blinds. They look the same but don't require the same amount of upkeep.
West Hollywood's Best Blackout Venetian Blinds
Do you love the experience of going to the movie theater where you get to fully experience and focus on the film you're watching in total darkness? You don't have to leave your house for that! Blackout Venetian blinds will completely close out light from outside. That way, you can achieve the same style of viewing from the comfort of your couch. Don't worry about the aesthetic of the room either, as blackout Venetian blinds come in an array of materials to pick from. Pick the colors and patterns you like and we'll make and install everything to your satisfaction.
Cheap Blinds For West Hollywood Windows
We're here to assist you and discover the best choice of window treatments for your needs. Both in budget and functionality terms. Metal Venetian blinds are the more affordable option, should that be your biggest concern. Aluminum is also less expensive and will hold up for a long time as well. Want them to be simple to keep clean and looking spotless? Then you'll probably want PVC or vinyl. Whatever is most important to you, our West Hollywood Venetian blinds experts are ready to walk through all the options with you! That way you know you've made the right choice. Get in touch with us today to book a free consultation appointment!