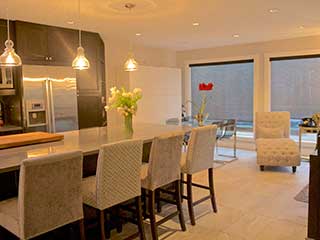 Automated shade technology is quickly making daily tasks like closing your blinds at night or when it starts raining, and bringing the light in first thing in the morning, as easy as a touch of a button, or a swipe of your smartphone. With timed settings or light and temperature sensors, your automatic blinds will open and close on their own, helping you minimize heat transfer through the day and thus saving you money on energy in the long run.
Different Motors and Power Sources
The heart of blind automation is the motor, which controls the opening and closing of the unit. The options include battery operated, hardwired and even solar powered motors. Some are quieter or faster than their counterparts, some are made especially for horizontal blinds (with sideways movements) and others are more suitable for roll-up shades. One of the most recommended brands today is Somfy®, which specializes in motorizing solutions suitable for both residential and commercial applications. Their products operate very quietly, and can be controlled with hand-held remote controls, wireless wall switches, timers and even smartphone and tablet devices.
Controls, Sensors, and Timers
As mentioned above, controlling a motorized blind can be done with a wall switch, a remote handset or from a smartphone or a computer, depending on your preferences. Wall mounted switches come in many styles and designs that can complement the room's décor; they are usually wireless, and mostly single channel, controlling an individual set of motorized shades or blinds. The options of remote handsets are numerous and include control of a single or up to 16 different window treatments as a group or individually. In addition, light sensors and timers are also available, so your electric blinds can open and close either at pre-scheduled times or according to the level of sunlight or the room's temperature.
Connectivity and Integration
The most exciting feature of motorized shades is, of course, the digital connectivity option for control and management. Somfy myLink™, for example, turns your smartphone or tablet into a remote control for using the brand's exclusive platform, Radio Technology Somfy®. Their products can work in conjunction with Alexa, IFTTT, and Google Home, allowing you to integrate all home connectivity systems into one.
Schedule a Free Consultation To Learn More
Want to find out what else motorized blinds and shades have to offer? Sit down with a window treatment expert near you to get all the information you want. Contact West Hollywood Blinds & Shades and let us introduce you to the beautiful and efficient world of motorized window shades.