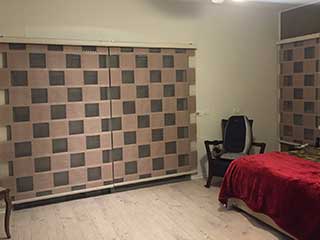 Choosing new window shades isn't a two-second process. You need to decide which type and style work best for you, as well as whether to go with hand-drawn options or to have your new window treatments motorized. Then there's the matter of light blocking and/or filtering. Should you opt for privacy over bright natural lighting or vice versa? With sheer shades, you can get both.
The Versatile and Beautiful Option
What's so great about sheer shades is that they provide a balance between UV protection and light filtering. Their slats can be adjusted to let in less or more sunlight at any point of the day, and they can even be lifted to allow full exposure, or lowered and closed for enhanced privacy settings. While some types of window coverings may be better at some specific thing, sheer shades are great at a range of opening levels and are without question the best choice for those looking to maximize natural lighting without letting UV rays damage their upholstery.
A Matter Of Material
Apart from changing the position of their slats, the material sheer shades are made of will determine their ultimate opacity and how good they'll be at filtering sunlight. When the shades are fully closed, they'll likely provide a near 100% protection, but with the right fabric, they'll be able to offer a very high level of UV protection even when their vanes are opened.
To Motorize Or Not To Motorize
This really isn't a question, to be honest. Motorized sheer shades have so many benefits to offer, it's hard to try and come up with possible cons. Motorization, in general, seems to be the way of the future, and many smart home systems integrate automatic window treatments. This is an especially viable option when the motor and controls used to achieve it belong to major brands such as Lutron or Somfy. If you're interested in self-adjusting sheer shades that use brightness or temperature sensors to self-regulate, then that's an option as well.
Custom Made Sheer Shades Perfect For Your Windows
Why go through the selection process alone? Set up a free consultation with West Hollywood Blinds & Shades and get all the information you need to make the best decision for the windows of your home or office. With our help, your new soft sheer shades won't just look beautiful (which they will), they'll also do an exquisite job filtering sunlight and will allow you to benefit from both privacy and natural lighting every single day.