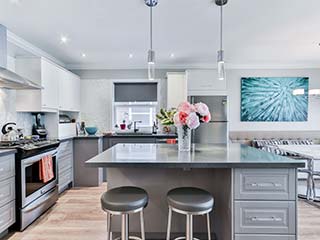 Gain the benefits of innovative technology with all the aesthetics of classic window treatments! Motorized blinds give you a variety of options that can both emphasize clean aesthetics and deliver easy and convenient remote control options. Motorized window treatments can add a lot of utility to your home or to commercial spaces. Controlling sunlight with the push of a button helps you keep energy efficiency high and indoor temperature at a pleasant level. With wireless motorized window blinds, you can easily switch from dark to bright to dark again without evening setting foot in the room.
Motorized Smart Blinds
With the innovation of motorized shading solutions came all sorts of advanced control features. The latest to offer you tremendous benefits are smart blinds, which you can program to work according to your needs. Want to keep the indoor climate cool or cozy? Install motorized smart blinds in your West Hollywood home to enjoy window treatments that use special sensors to adjust according to time of day, brightness, or temperature. Smart window blinds can also connect with your smart home system. This lets you use them automatically, as well as incorporate voice command options with Somfy blinds controls, for example.
Remote Control Rolling Shade Solutions
You can utilize various degrees of opacity to your advantage. With motorized roller shades, sheer or more opaque, you can diffuse sunlight coming through the windows and thus maintain a pleasant and well-lit indoor ambiance, without the glare that often accompanies direct sunlight. Custom made motorized roller shades will provide a significant advantage, plus the aesthetic and clean look adds a nice touch of décor. Using smart remote controls for motorized window shades, these shading solutions can sport all sorts of colors too, and will easily roll up or down at your command.
Free Quotes From West Hollywood Motorized Blinds Installers
Instead of guessing or trying to figure out what will work best for your needs, consult with our professionals! With a free estimate on custom made motorized blinds and shades you can look at different options and choose the remote control features and designs that meet your standards. Get help from West Hollywood's leading motorized blinds experts today! Book an appointment for a free estimate delivered in person!