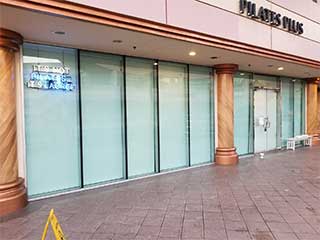 Are you looking for high-quality sliding door blinds for your property? We offer great deals on window coverings of all types. Choose between options such as faux wood rolling shutters, or motorized vertical blinds. Thanks to our incredible range there are nearly limitless possibilities. Thanks to our West Hollywood-based team of experts, we can also offer you private in-person consultations at your property at no cost. You'll have the chance to examine our custom sliding door blinds, drapes and rolling shutters in person, and get expert advice from our representatives.
Custom Rolling Shutters
Choose rolling shutters for your West Hollywood property, and you'll get a huge range of benefits. These window coverings offer protection from the sun and weather, but they also keep debris away from the windows. In addition to this, you can choose highly attractive materials such as aluminum, vinyl or even real wood. Select the ideal colors to complement your property, and you'll find your home looks better than ever once you've installed custom rolling shutters.
Cheap Vertical Blinds In West Hollywood
Don't spend more than you have to in order to get quality products. Our selection of vertical blinds gives you total control over your new window coverings. You can specify exactly what you want, from the color and material of the blinds to the width of the vanes. This lets you create the ideal custom sliding door blinds for your property. Get a free quote today to find out just how affordable our vertical blinds can be.
Blackout Curtains For Screen Doors
Our great deals extend to all window covering products, including curtains for screen doors. We offer plenty of choices, with a huge array of fabrics and materials to choose from. Design custom curtains that perfectly suit your home by finding the ideal combination of patterns and colors. If you'd like to see our various options in person, why not set up a free consultation with one of our West Hollywood-based covering experts? This is the perfect opportunity to see exactly how our custom curtains could improve your property.
Low-Cost Blinds For French Doors
Nobody wants to deal with glare and dazzle coming through their French windows. This is a constant irritation, and it's often made worse by the lack of privacy that comes with it. You don't have to put up with this, though. Our selection of custom blinds provides the perfect solution. Get a free quote for your new blinds today, and see just how little it could cost to improve comfort and privacy at your home.
Affordable Patio Door Blinds
Find the right window coverings from our extensive selection. Whether your patio doors open by swinging or sliding, door blinds are an important consideration in any home. Our custom products ensure total coverage and ease of use, so you'll never have to struggle to adjust them to the right level. Get a free quote today, and find out how we could help to improve your West Hollywood home.
Get a Free Quote
Interested in covers for your sliding glass doors? Our blinds specialists in West Hollywood can create custom covers for anything from screen doors to large wall-to-wall windows. We offer motorized blinds, blackout curtains, and also rolling shutters (electric or manual). Give us a call to set up a free estimate at your home or office.