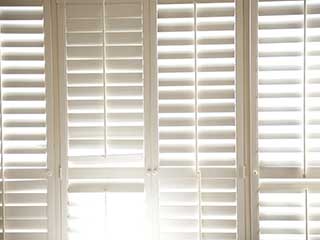 Our wide selection of quality plantation shutters is the perfect way to improve how your home looks and feels. These are one of the most popular window coverings around, and many West Hollywood homeowners have chosen them for their properties. Our range includes shutters for windows anywhere in the home, using an array of different materials and designs to provide an excellent choice. Find out about our fantastic selection of custom plantation shutters, and schedule a free estimate for your home today.
The Best Plantation Shutters Around
We pride ourselves on offering only the highest quality plantation shutters. That means we'll never compromise on quality, and we always work hard to ensure you're satisfied. Our custom plantation shutters feature many different options, including materials such as real wood. Plantation shutters can also be fitted as exterior shutters, providing enhanced security for your property and protecting the windows.
Wooden Shutters Enhance Any Home
Real wooden shutters are a great addition to your property. Choosing wooden plantation shutters can often add value to a West Hollywood home. That's because these window coverings are tough and durable, as well as a classic and attractive design. Wooden shutters are easy to clean and hard to damage, although they do require some regular maintenance. If wooden shutters do suffer any dents or scratches, it's easy to repair them, unlike shutters made from other materials. It's easy to see why wooden shutters are such a popular choice. You can find them in many homes in the local West Hollywood area.
Exterior Shutters Protect Your Property
Fit plantation shutters to the exterior of your home and your windows will be protected from dirt and damage in any weather. This is also a great way to maximize space internally since you won't have any shutters fitted inside the room. This allows you total flexibility when choosing window coverings since you can easily fit curtains, drapes, or shades of any type to complement your exterior shutters. In addition to these practical benefits, we can tell you that properties with exterior shutters look amazing, too. We're sure you'll agree, so why not schedule a free consultation today?
Find The Right Plantation Shutters Today
Your home could be more comfortable with custom plantation shutters. These window coverings look great and provide excellent privacy, as well as long-lasting reliability and comfort. What more could you want? To see our range of high-quality plantation shutters in person, schedule a free consultation today. Our West Hollywood team is always ready to help, so give us a call whenever you're ready.