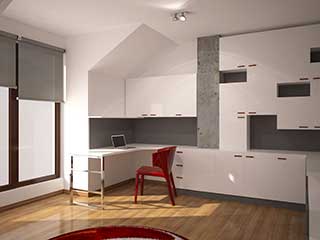 With so many different shading solutions available today, how can you decide which type of window covering to get? Well, a good place to start is looking for shades that can provide proper light control and privacy options. To help you make the decision, our experts wrote short overviews for some of the best custom window shades designed specifically to give you full control over how much natural light gets into your work and living spaces.
Flat and Pleated Roman Shades
Roman shades are a classic solution for better control of sunlight in your living areas. The best part about them is that they do a fantastic job while also adding a certain sense of style to the room. These covers are typically made from a pleated fabric which overlaps when the shades are open. When they close, the slats fall down, unfolding to cover the length of your window. Thick fabrics and dark colors will add to the effectiveness of Roman shades in darkening the room and even creating a blackout effect if you so choose. You can opt for a range of different hues, textures and design patterns, including adding valances and drapes.
Simple Rolling Shades
Rolling shades also make use of thick fabrics which work wonders at filtering natural light. When open, the fabric of these shades is neatly stored on a roller. They come in a variety of colors, patterns, and styles, which allows you to personalize your living spaces while managing the natural light levels therein. Custom window roller shades are perfect for both adding an aesthetic quality to the home while darkening it, without being loud and overbearing. This makes them an affordable and simple solution perfect for bedrooms, living areas and, entertainment rooms.
Horizontal Window Blinds
Horizontal window shades and blinds are a somewhat classic solution for managing natural light. As such, they are quite a popular choice amongst homeowners. They work well in conjunction with regular curtains when fitted inside the window recess. They also provide easy visibility and easy means of adjusting the levels of natural light in your home. Horizontal window blinds are usually suited to large living spaces, bay windows, or entrance halls. However, they are also suitable for use in studies, bedrooms, and dining-rooms.
Dual Roller Shades
When it comes to both style and functionality, few products can hold a candle to dual roller shades. These coverings offer paramount levels of light control, all the while looking good while they perform their task. With regards to style, they are sleek, modern and unobtrusive, just like their single roller counterparts. This makes them perfect for large open spaces and massive windows. In terms of their effectiveness, dual roller shades make use of a light netting to filter light, as well as a second layer of fabric which can completely darken the room. The two can be operated independently or used in conjunction for better light filtration. Furthermore, they can both be opened to let the full might of the sun and view shine in.
Schedule a Free Consultation To Learn More
In conclusion, while most types of window treatments can create a room darkening effect, some blinds and shades may be more suitable than others. Of course, the type shouldn't be your only consideration. The material also plays a huge factor. To ensure you're covering all your bases, get in touch with West Hollywood Blinds & Shades and sit down for a free consultation with one of our experts.